This is one of my favorite desserts to make, and is yet another one of my mother-in-law's recipes. I'm linking up with Shanty Suppers once again AND
Show Us Your Life at Kelly's Korner!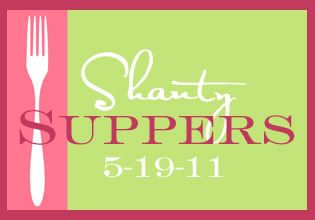 Neiman Marcus Brownies:
Ingredients:
Crust:
1 box yellow cake mix (make sure you get one without pudding)
1/2 C. softened butter
1 egg
Topping:
1 – 8oz package softened cream cheese
1/2 C. softened butter
2 eggs
1 tsp vanilla
1 box (approx. 2 cups) powdered sugar
1 C. pecans
Directions:
Preheat oven to 300. Lightly grease & flower a 9x13 pan. Mix cake mix, 1/2 C. butter & 1 egg. Press into bottom of pan. In a separate bowl, mix cream cheese, 1/2 cup softened butter, 2 eggs, vanilla & powdered sugar until smooth. Pour over cake mixture. Sprinkle pecans on top.
Bake for 55 minutes (watch closely – it may take a little longer). Edges should be just turning golden brown. Cool completely before cutting into bars. Refrigerate when cut – serve chilled.
(P.S. - I made these recipe cards. Feel free to download and save the recipe! I'd love it if you'd credit me if you re-use them on your blog!)