This doesn't fall into the "supper" category, but I wanted to share it anyways since it's a delicious and easy recipe for entertaining! Make sure you check out the other recipes below, and all the others on Shanty 2 Chic's site!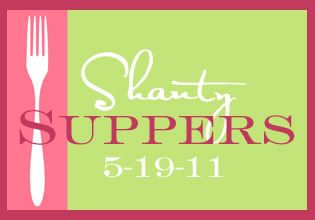 White Wine Sangria:
Bottle of your favorite white wine
2/3 C sugar
3 oranges OR 1 C of orange juice
1 lemon
1 lime
1/2 liter of ginger ale
(For presentation – 1 more of each - orange, lemon & lime)
Pour wine in the pitcher and squeeze the juice wedges from the orange, lemon and lime into the wine. You can toss in those wedges, or if you care about presentation, cut up fresh wedges from an additional lemon, lime and orange. Add sugar. Chill overnight. Add ginger ale just before serving.
If you'd like to serve right away, use chilled white wine and serve over lots of ice.
Enjoy!
(P.S. - I made these recipe cards. Feel free to download and save the recipe! I'd love it if you'd credit me if you re-use them on your blog!)