There is a ton of great inspiration from these linky parties – I love it!  I just wish I had the time to look through all of them and find ways to incorporate all of the great ideas into my own home!  There's one more week left in the linky parties and if you haven't checked them out yet, you are missing out!  This time, I'm sharing my mantel with Michelle at Ten June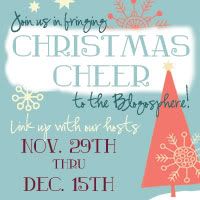 In case you couldn't tell, the stocking hangers spell "Peace" (not "feast" as some might be inclined to think *cough*Kaylan*cough*).  ;)
Hadley had to add her touch to the Christmas décor with her basket of toys on the mantel.
One of my favorite items is this hand-carved manger scene.  We received it as a wedding gift (we were married in November) and it was scented with rose water and came straight from Israel!  What a special gift – I love putting it out every year.
You'll have to pretend that frame has a more "wintery" picture in it – I'm waiting to get the prints back from our holiday photos!
It's still a little weird to me that the stockings that say "mom" and "dad" are referring to me and Matt, but it is so fun seeing them all up there for our little family of three!
Now if I could just remember how to light the pilot light so I could get a fire going in the fireplace…