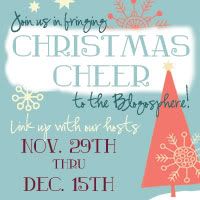 I really haven't had as much time to take the perfect photo and move stuff around until it's "just right" this year, but I'm going to share our holiday decorations with y'all anyway.  Such is life with an 11 month old!  I'm stretching the use of "vignettes" here, but here you go!
I filled my apothecary jars with ornaments, fake snow & pinecones, and fake snow with cranberries.
For our foyer table, I used more fake snow and cranberries to fill some candle holders, and put out one of my new favorite plates, thanks to my mother-in-law!  It's got our countdown to Christmas on it now, but I may change it up and leave it out year round!
Clearly I took these pictures awhile ago (can you believe there are a mere 17 days until Christmas?) and am just now finding the time to post them!
Our Christmas card holder that I bought at Ballard Designs a few years back – just begging for Christmas cards to display!
And I'll leave you with a quick shot of our tree – just because I think it looks pretty!
If you want more Christmas inspiration – go check out Courtney's link-up at A Thoughtful Place!